'Week of walk ins' continues in West Sussex
More than 50 walk in vaccination sessions have taken place in Sussex this week to make it as easy as possible for people to receive their vaccination. Many more are planned for the rest of the week with sessions across West Sussex.
At community centres, supermarkets and in town centres, the pop up clinics are open for first, second and booster vaccinations.
No appointment is needed and people can come at any time during the session. They have been well received and people have come forward for their first vaccines as well as those needing their top up booster.
We encourage anyone who is yet to have their vaccine – whichever it may be – to find a walk in session close to them and attend in the coming days.
The teams are also able to answer any questions that people may have – if you are not sure, or you have questions, come and meet the team and they can talk to you about it. There is no pressure to have the vaccine on the day; they are keen to answer your questions.
The best protection against COVID-19 remains the vaccination
For more information please download the following PDF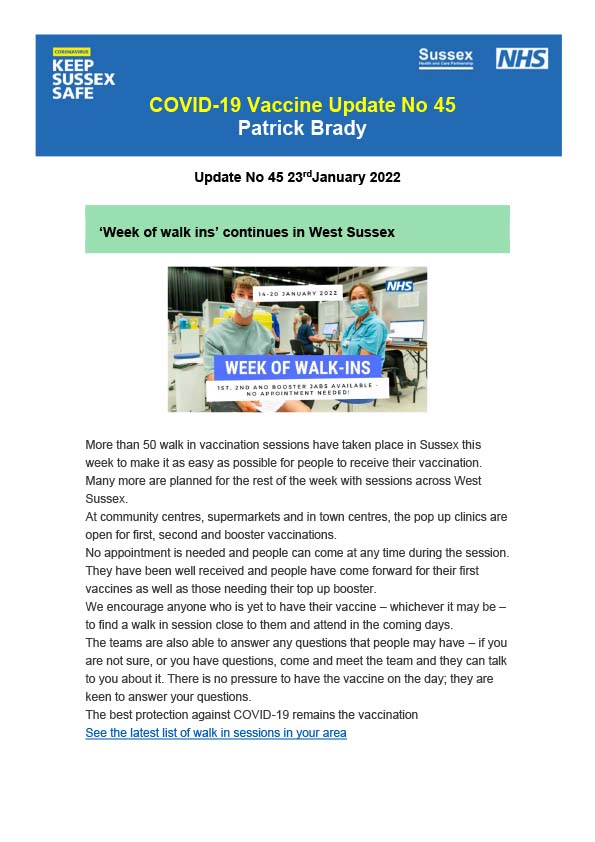 Featured image by Steven Cornfield on Unsplash