We hope you have enjoyed your visit to our website and that you found some useful information about the Parkinson's condition.
Having a condition like Parkinson's can make life feel lonely, isolating and challenging. Without a resilient support network to rely on, sufferers and their families are likely to face many hardships, be they emotional, physical or economic.
Parkinson's UK – our national charity – has been providing just such a network for over half a century. From humble beginnings in a one-room office in Putney in 1969, Parkinson's UK has brought together the expertise of health and social care professionals and researchers, combining it with the first-hand experience of volunteers and patients to improve the lives of people living with Parkinson's and work towards improved treatments and, ultimately, a cure for this devastating condition.
Local branches – like our's – are vital cogs in this national network: they provide mutual support, both emotional and practical; make information, resources and advice easily accessible; and offer a friendly face and understanding voice, when and where it is most needed.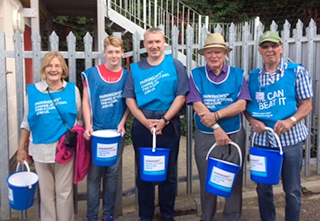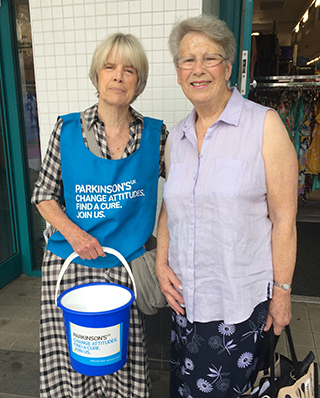 Some of the practical support we are proud to offer includes:
Help for members in the form of contributions towards the cost of home help
Taxi fares for medical appointments for those without access to personal transport 
Activity classes for exercise and gym sessions
Monthly Members' Meetings, featuring information and advice from guest speakers 
Coffee mornings for members to meet socially 
A quarterly newsletter full of useful information for sufferers and their carers
In order to provide all this support and more, we are reliant on the kindness and generosity of our supporters and sponsors who offer their time and resources to mount local fundraising efforts, such as our annual garden party, and assist with national initiatives and collections for Parkinson's UK. Without such fundraising, we would not be able to be there for the people in our community – and their families – struggling with the life-changing impact of a Parkinson's diagnosis.
But we can't do it alone. Your support can help change CAN'T to CAN.
Donating couldn't be simpler: just press the button below to lend your support. Remember – your small change can make a big difference to a local person suffering with Parkinson's.
The Coronavirus pandemic has curbed many of our usual fundraising activities; we hope to be able to resume shortly but, in the meantime, we thank you for your generosity and goodwill.
Looking to join us or get involved with our activities?
We welcome support volunteers, new members or carer members to join us –  the Crawley & East Grinstead Branch of Parkinson's UK, the Annual Subscription is £10 per member. Or to find out more you can contact any Committee Member or follow the Get in Touch Button below.
You will be redirected to our LibertyPay card payment gateway